One toke you know the rules. Good Buds' Mango Taffie is a popular strain among terp hunters with a fine taste for the plant's aromatic compounds. It has a candy-like taste and comes with some sweet effects. Whether you're a new or seasoned user, you'll appreciate the strain's juicy mango aromas and potent effects. After all, who doesn't love a good tropical flavor? If you're into high-potency and fruity strains, check out Mango Taffie from Good Buds. Mango Taffie, as well as many other strains can be found at the Dank cannabis stores in Canada.
STRAIN DESCRIPTION
Good Buds' Mango Taffie is a robust, sativa-dominant strain. On average, Mango Taffie has THC levels between 18 and 21 percent.
Mango Taffie's is perfect for a wake-and-bake session or an afternoon buzz. This sativa-dominant strain is prized for its incredible aromas.
Strain: Sativa-Dominant
THC: 18-21%
CBD: <1%
Terpenes: Caryophyllene, Myrcene, Ocimene, Terpinolene
Amount: 3.5 grams, 7 grams
Price: $15/gram
GOOD BUDS: SMALL-BATCH & ORGANIC CANNABIS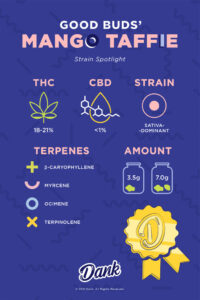 It's all in the name. Good Buds truly make quality flower products. Started by two brothers, Tyler and Alex Rumi, this family-run craft cannabis company produces small-batch flower, rosin, and hash for discerning users.
All Good Buds house strains are grown naturally with organic soils, recaptured rainwater, and ocean air, without any chemicals or synthetic ingredients. Living soil contains beneficial microbes, which help promote better absorption of natural minerals for the root system.
The result is hardier plants and better-tasting buds.
Good Buds grows all their weed on Salt Spring Island, BC. All flower is grown in small batches and indoors. Then, they are hand-trimmed, hang-dried, and slow cured. It's no wonder they taste so good.
Good Buds are certified by the Fraser Valley Organic Producers Association (FVOPA) for all indoor and outdoor cannabis cultivation.
Good Buds produces dried flower, pre rolls, award-winning ice water hash, and rosin from in-house strains such as Dosi Melon, Gluerangutan, Sapphire OG, Salty God, and Mango Taffie.
GENETICS
Mango Taffie is the hybrid of LA Affie and Hawaiian Landrace genetics. LA Affie is a pure indica strain with an earthy and sweet aroma . Hawaiian is a landrace sativa strain known for its tropical fruit aroma.
APPEARANCE
Bright green, striking orange, and shiny white trichomes. That's what you get with this sativa-dominant strain. These Mango Taffie buds are dense and caked with sticky resin and trichomes. These nugs are drenched in trichomes giving them a brilliant lustre that can end up sticking to your hands when breaking it apart.
AROMA AND FLAVOUR
The main selling point of this strain is its undeniably juicy mango aromas. It's sweet, it's sugary, it tastes like candy. You'll notice a hint of citrus, which adds a slight acidity and sharpness. There are notes of spice adding a woody and earthy complexity.
Grind these nugs up to break apart the trichomes and unleash its potent smell or take a giant hit from a pipe, bong, or joint to revel in its sweet and tropical aroma and flavour.
QUALITY
As a Good Buds exclusive, Mango Taffie overdelivers on presentation and quality. Their hand-trimmed and hang-dried approach using organic soils works. These naturally-grown buds are good for any type of user, especially those who prefer the more nuanced terpene profile of organically-grown weed. A humidity pack inside each container provides the ultimate freshness.
HOW TO ENJOY MANGO TAFFIE
Mango Taffie has an incredible flavour profile that can be unleashed with a vaporizer. However, there is no wrong way to enjoy this strain. Go on a hike, read by the beach, or paint the sunset.
STORAGE RECOMMENDATIONS
As always, cannabis should be stored in a cool, dry, and dark place. Good Buds Mango Taffie comes with a humidity pack to keep your flower fresh for longer.
MANGO TAFFIE PRODUCTS
Mango Taffie, grown in small batches, is available in 3.5-gram and 7-gram varieties of dried flower, 0.5 grams of flower rosin (60-75% THC), and pre-rolls (2×0.5g/5×0.5g).
Pre-rolls are made with organic rolling papers and buds, not trim. It is the perfect strain for extractions due to its delicious mango aroma and high potency.
FINAL VERDICT
Mango Taffie has a pleasant aroma of juicy mango and an earthy undertone. It can be the ideal strain for those who love sweet cannabis flavours.
SCORE: 8.2/10
You can get this amazing strain at dank.ca, a cannabis dispensary in Canada. All you have to do is order online on their website's menu and then pick it up in store.
For the best strains and more, Shop Mango Taffie on the Dank Cannabis menu. Find an array of exotic strains available at our cannabis stores in Canada.