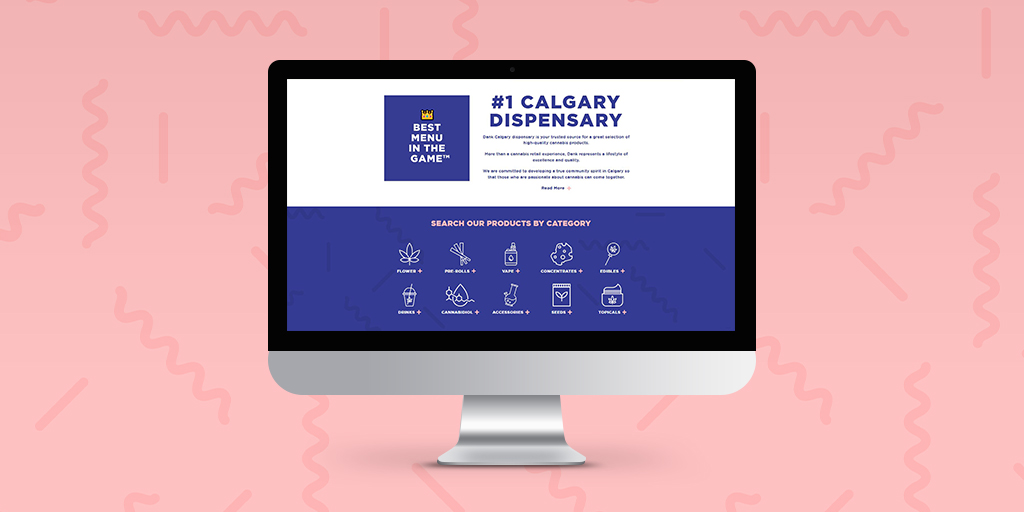 Enjoy buying weed online from the best Dispensary in Calgary, Alberta, Canada. Our website is easy to order cannabis online, and receive it in the mail for people who live in Alberta. The Dank cannabis stores in Canada are the only ones that provide instant ID verification. That means you can quickly verify your age online, and start placing an order right away. While all the other cannabis stores in Canada require in-store ID verifications only.
Dank Cannabis Locations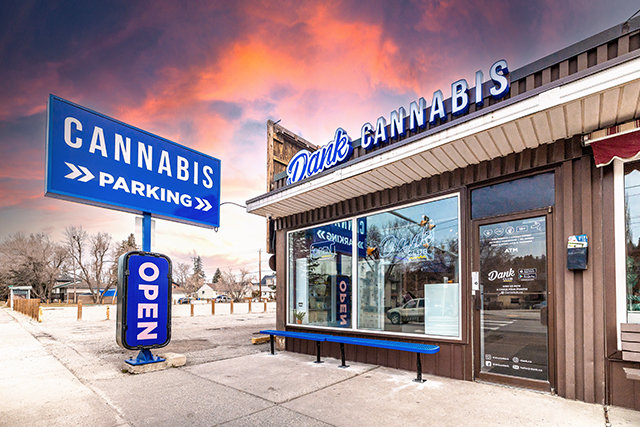 In case you prefer not to buy weed online, we encourage you to visit one of our Dank dispensaries in the Calgary area. The Dank cannabis stores were created with YOU, the customer, in mind. We wanted to not only bring quality bud to our customers, but to also bring the perfect experience that everyone can enjoy. We currently have three in-store dispensaries and more on the way.
One in Ogden, Dover, and a new one in Parkdale. Our weed dispensaries are filled with high quality bud and high quality Budtenders, otherwise known as helpful team members, who are there to help with any questions you may have. We offer a convenient self-serve option for our in-shop experience. It allows our customers to not only see but experience exactly what they are getting. It also allows for complete buying satisfaction for you, because you get to pick each piece.
To prove it, check out our ratings on Google. Our stores are rated highly rated such as Parkdale at 5 stars. Both of these come with many reviews about the positive visits to our shops! With proven customer satisfaction, our in-store locations have what you need!
Order Online For In-Store Pick-up
Buy weed online from our website! Put what you want in your virtual cart. Checkout, and you will receive a text message to come and pick up your order. It is the best for quick runs, when you want to skip the in-store line and pick up your bud and leave. Same day cannabis delivery is also available for those in the city of Calgary and Chestermere.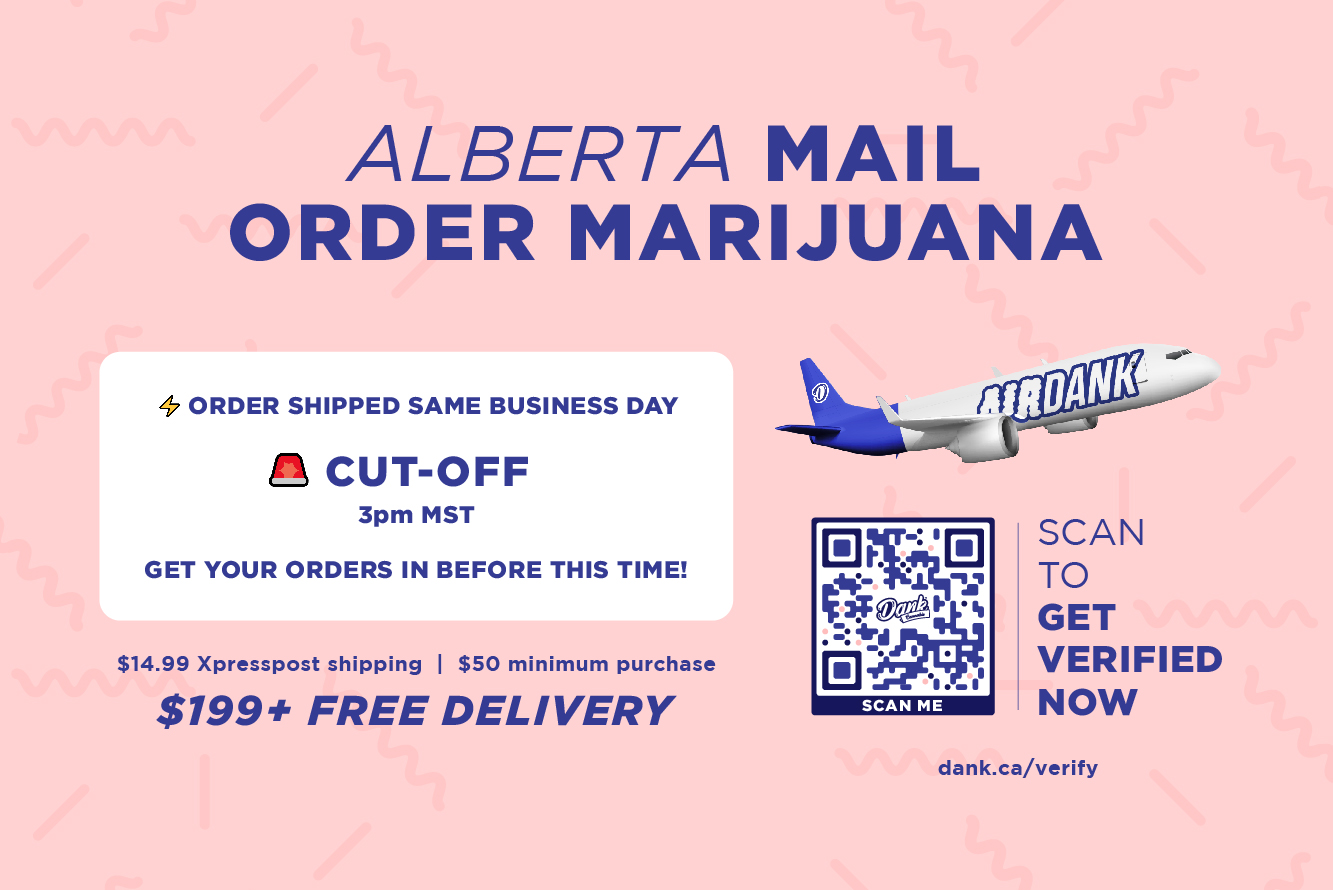 NEW Mail Order Marijuana Delivery In Alberta
Our online store just got an exciting upgrade! We just got approved for mail order marijuana delivery for the people who reside in Alberta, Canada. Now you can save a trip to our Dank dispensaries, and comfortably buy cannabis at your home. We have a state-of-the-art website that's user-friendly, and easy to explore our entire selection of cannabis products. We also have a really insightful blog about the THC and CBD products available for sale. Learn about the effects and differences so that you can make a smart buying choice.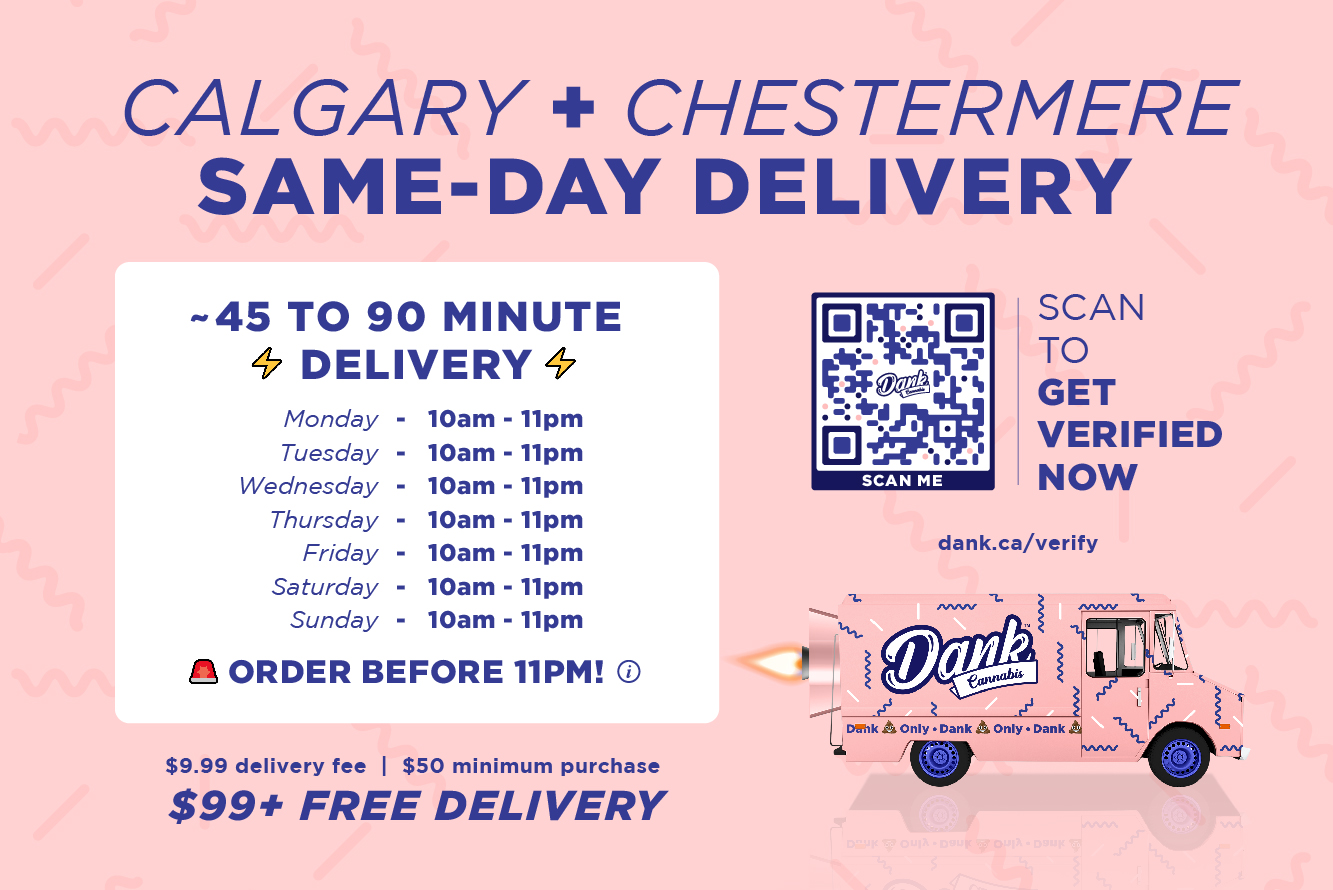 Same-Day Cannabis Delivery Available for Calgary and Chestermere
Also, available is same-day delivery to the Calgary & Chestermere area! Allow one of our team members to drive to your home, or set location and drop off your order. We strive on being the best weed delivery services, and do so with fast deliveries.
We have live staff available to chat with you during this online shopping experience. This way, if you have any questions, answers are just a click away. Our helpful online chat agents are happy to help with any questions you may have about pick-up, shipping, or product options!
THC and CBD Products
We do not only sell cannabis strains. We sell a multitude of THC products and CBD products. Both in our dispensaries and online website, we have a wide selection. We have our self-serve THC cannabis. We also sell THC pre-rolls, concentrates, edibles, concentrates, vaporizers, topicals, and cannabis seeds. This wide array allows us to provide every kind of product our customers could ever need.
High and Low THC Cannabis Strains
Browse our menu and be prepared for a vast selection of well known cannabis strains, and newer popular options too. Discover some of the same strains in California dispensaries, available at our cannabis stores. We are definitely inspired by the California movement for cannabis. We recommend cannabis with low THC content for those just getting started. A more frequent cannabis smoker will prefer the strong THC content possible, and we aim at catering for both types of customers.
Every THC product for sale has been lab tested and includes a label with an accurate percentage of potency. It really does not take a lot of cannabis smoke to feel its effects, we suggest only a couple of puffs for inexperienced users. Never hold the cannabis smoke in your lungs for a long time, you want to quickly exhale it. We also want to suggest using a 510 thread vape cartridge with your weed for the most convenient method, and also encourage edibles as an alternative to joints.
Hash Joints
Also known as twax joints, or infused pre-rolls, we got them for sale too. These are prerolls that also include cannabis concentrates inside of them. The most common types of THC extracts added are keif and live resin oil. The actual hash joints available on our menu will vary, so be sure to check it out for the latest products. We highly recommend prerolls with wax for special occasions, and they will burn longer too.
Cannabidiol
Many people swear by CBD, even those who do not use THC products. For this reason, we wanted to make sure we carried CBD products for THC consumers and non-THC consumers! Our CBD products come in concentrates, edibles, vaporizers, and topicals. We have products that are high in THC and CBD as well, so you can have the best of both worlds! All of these things can be found at our local dispensaries!
Tetrahydrocannabinol
THC, or tetrahydrocannabinol, is the main element of cannabis that gives users that high sensation that consumers know and love. But this feeling is not just used for recreational purposes. We carry flower, pre-rolls, edibles, vaporizers, and concentrates all that have THC in them. This allows our customers a wide array of options for any purpose or need.
Marijuana Smoking Accessories For Sale
We also sell accessories for all your marijuana smoking needs. Also carried in our store glassware like hand pipes and bongs. We have rolling papers and other 420 accessories. Grinders and containers can be purchased in store and online. We even have dab tools, lighters, and batteries for vaporizers.
Hand pipes
The new cannabis smoker who doesn't know how to roll joints or blunts yet will enjoy a hand pipe. They fit in your hand, and only require a few steps to use. The first step is turning your cannabis into little pieces using a grinder. Once the cannabis is broken into tiny and fine pieces, its time to load up the bowl of the hand pipe. The next step is the best part, and that's lighting up and taking the hit. Glass pipes are the most popular type, and some come with a hole on the side called the carb, you put your finger on this while drawing out the smoke, and let go upon inhaling.
Pre-rolled Cones
Another solution for a new cannabis smoker who doesn't know how to roll joints yet is using pre-rolled cones. There are many types, but the most popular are hemp cones, and King Palm leaf cones. But are natural options, and are great for smoking weed. You simply use a grinder to finely break down your bud. Afterwards, the cannabis is stuffed and packed using a plastic or wooden tool to push it down. These tools typically come with pre-rolled cones to help make the process easier.
Grinders
A cannabis grinder is an essential for an optimal cannabis smoking experience. They are typically made from metal, but there are some made from plastic that are excellent too. But the best are made from metal, and will provide a countless amount of uses. We have plenty of premium weed grinders for sale at great prices. We encourage you to browse the varieties available, and always use one during your cannabis smoking session. Some even come with a screen that will capture the kief fallen from the bud, this is called a kief catcher. Using a cannabis grinder frequently will accumulate this concentrate from the bud.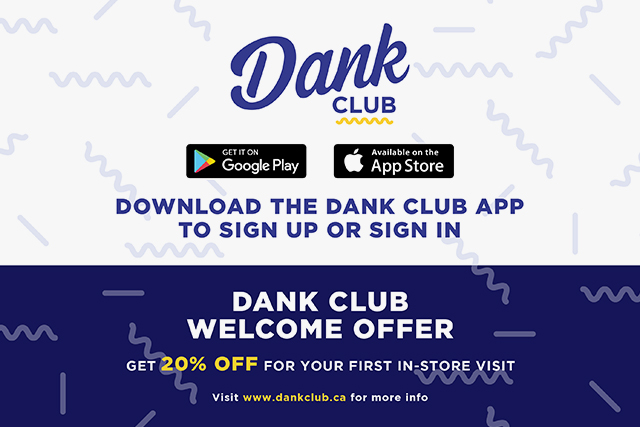 Dank Club
Join now, and get 20% off on your second purchase made! Another way we make your shopping experience better is with our Dank Club.
It's a customer loyalty program with rewards and access to awesome discounts. It also gives members access to special promotions, events, and freebies. All of these as a thank you for being loyal customers. The membership gives you points for every purchase and visits. Those points give you discounts that you can use on future purchases.