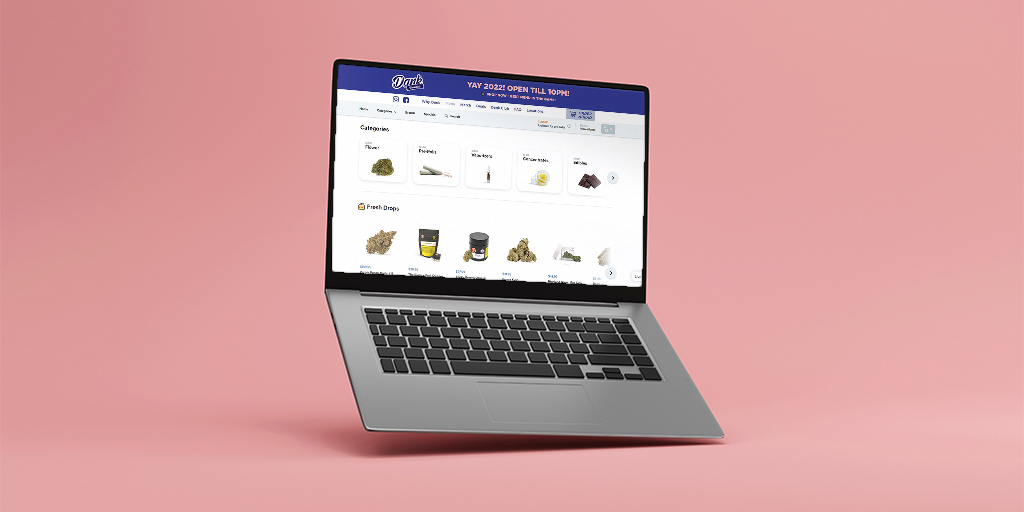 Many Canadians are confused with the rules and regulations around buying weed online. Some provinces allow the purchase of marijuana through private retailers, while some require the use of a government-run website. We show you how to order marijuana online from our cannabis store located in Calgary, Alberta, and the laws.
Age Required To Buy Cannabis In Alberta Is 18
Online marijuana purchases also depend on the minimum legal age in the province. In Alberta the legal age is 18, but it differs from region to region.
In provinces where you can buy weed from private online retailers, there are a number of dispensary options. The best online dispensaries offer a variety of strains and products, detailed information about the effects of each product, and reasonable prices.
A reliable option for the online purchase of marijuana is the Dank Calgary store at Dank.ca. The Calgary-based dispensary makes it easy for you to find the right strain, purchase it for a reasonable price, and pick it up in-store.
Order Online with The Dank Cannabis Store
Dank has three uniquely customized buying experiences:
Canadians and visitors can choose to pre-order their products online for a fast pick-up, visit any of the convenient storefronts for a personalized, in-person experience or, lastly, get their order delivered to their door.
For online pre-ordering, the process is simple. Residents of Canada simply load their online carts with choices from Dank's handpicked collection of flowers, concentrates, vapes, edibles, drinks, accessories, and more. Then, they can check out online, wait for Dank's text, and head to the storefront for a quick pickup.
If you prefer to make your purchases in-store, people in the area can visit Dank's convenient and expanding locations to discuss their options with a "Danktender." The trained in-store team at Dank has helpful guidance for new and experienced cannabis users alike. Customers walk away informed and excited about their new products.
Finally, and most conveniently of all, Dank Cannabis delivers! Dank Cannabis offers legal same-day Calgary weed delivery and mail order marijuana delivery to all of Alberta.
AGLC requires an ID check before we can deliver to you. We've made this process as simple as possible for our highly valued customers. You can now complete your ID check with our proprietary system instantly online from the comfort of your home. This means you are only minutes away from gaining access to the largest, best selection of cannabis products and brands available in Canada.
Cannabis Store Menu

The extensive menu offers the highest-quality products for online purchase and in-store pickup, all at reasonable prices.
Either pre-order online or pickup in store, which we have a dedicated area to speed up your experience. Online, fill up your cart with your favorite cannabis products, checkout, and wait for a text from Dank. Then, visit your location to quickly pick up your order.
Or, you can visit one of Dank's beautiful storefronts if you'd like to talk to one of the friendly Danktenders.
To recap, you can buy weed with Dank Cannabis in the following ways:
Order online and pick up in-store in a special designated place for a streamlined experience. *One-time AGLC ID verification needed before you can view our full menu.
Order online for delivery or Alberta mail order delivery.
Come inside to find what you're looking for and purchase in-store, all with the help of dedicated budtenders.

An Unbeatable Selection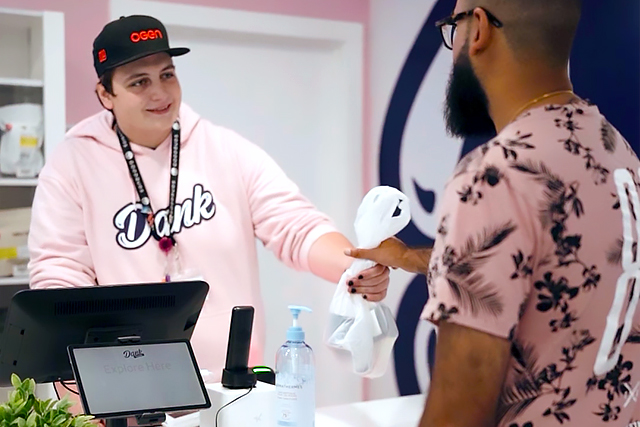 You won't find such a divinely curated selection of weed products anywhere else in Alberta.  Expect to find a variety of the highest quality flower, pre-rolls, vaporizers, concentrates, edibles, and drinks.
Easily navigate the online selection by filtering the type (indica, sativa, or hybrid), brand, potency, and weight. Dank is constantly seeking out innovative new products and the most reputable brands!
At Dank Cannabis, our priority is giving you a fantastic experience, both while purchasing and experiencing the items themselves.