Order online or drop by our cannabis dispensary for a vast selection of premium cannabis product options for sale. Find concentrates, edibles, and more.
Now that weed products are legal in Canadian provinces, residents and visitors of Canada have endless options for where to buy. Some regions only allow distribution through government-run retailers, while some areas like Calgary allow licensed private retailers to sell.
In Riverbend, the best private retailer is the Dank dispensary. Dank has a huge selection of THC and CBD products to order online or pick up in-store from the convenient Calgary, Alberta location.
Serving customers from all over Calgary, Dank is a trustworthy marijuana retailer with high-quality products. Anyone can find their perfect cannabis fit from the wide range and detailed information.
There are three reasons why Dank is an incredible option for cannabis in Calgary.
1. THE DANK CANNABIS RETAILER HAS A WIDE VARIETY OF PRODUCTS THAT COVER EVERY NEED, STYLE, AND TASTE.
The products at Dank online and in-store are carefully chosen by the team to only include the highest quality options.
Guests can find top-tier flower, pre-rolls, concentrates, and more for reasonable prices at Dank. With hybrids, sativas, and indicas, the comprehensive selection addresses any client's preferred strains and price point.
Locals and visitors of Calgary have access to Dank's delicious edibles, cannabis-infused drinks, and even accessories. From THC blend drinks to extraordinary hand pipes, Dank's creations will help any cannabis lover find their new favorite.
2. DANK HAS TWO CUSTOMIZED PURCHASING OPTIONS AND FRIENDLY AND KNOWLEDGEABLE STAFF.
Anyone living in or visiting Calgary can either order their products and merch online or visit the storefront for a personalized experience.
Online, clients can preorder cannabis by stocking up and checking out. Then, they wait for Dank to text them that the order is ready and head over to the storefront to pick up.
The other option is to visit Dank's convenient locations for a one-on-one experience with a trained Danktender. Dank's knowledgeable and friendly staff can assist every guest with their expertise on the products. Customers explain their preferred effects and strains, and Dank's team members guide them to find their perfect pot fit.
Both of these options result in a quick, painless pot-buying experience. Calgary residents and visitors can enjoy fast checkout and be informed on their products with online ordering or friendly in-store faces.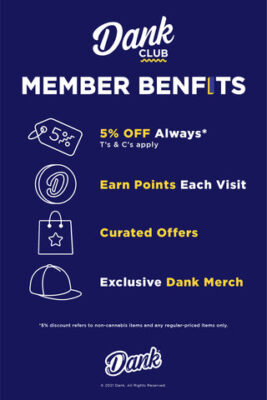 3. THE DANK CLUB GIVES MEMBERS EXCLUSIVE DEALS AND INSIGHTS.
For frequent visitors and locals of Riverbend, the Dank Club is a perfect choice to extend their Dank experience even further. It offers promos, exclusive merch, specially-curated offers, and even a 5% discount off of non-cannabis products!
Members of the Dank Club also earn points for every visit, so it's perfect for cannabis enthusiasts and those that love to find the best new strains.
Dank's customer-focused approach, friendly staff, and wide variety of cannabis products set it as the number one cannabis retailer in Calgary.
ANYONE INTERESTED IN LEARNING MORE ABOUT CANNABIS IN CALGARY OR PUTTING IN THEIR FIRST DANK ORDER CAN HEAD TO OUR MENU!