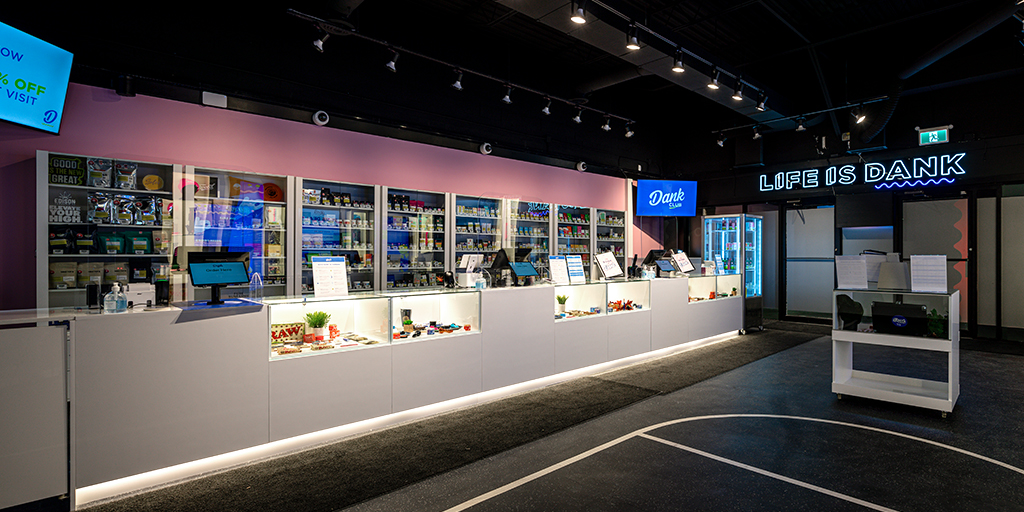 The best way to buy cannabis in Calgary, Canada is through Dank's streamlined online and in-store inventory
Dank Cannabis dispensaries offer a unique way to find cannabis in the Eastfield, Calgary area. By offering two customer-focused methods for purchase, Dank makes it easy to find the best products from their massive inventory. If you're in the Calgary area and looking for cannabis products, head on over to one of the Dank dispensaries located nearby.
Eastfield residents and visitors can buy cannabis from Dank in three different ways: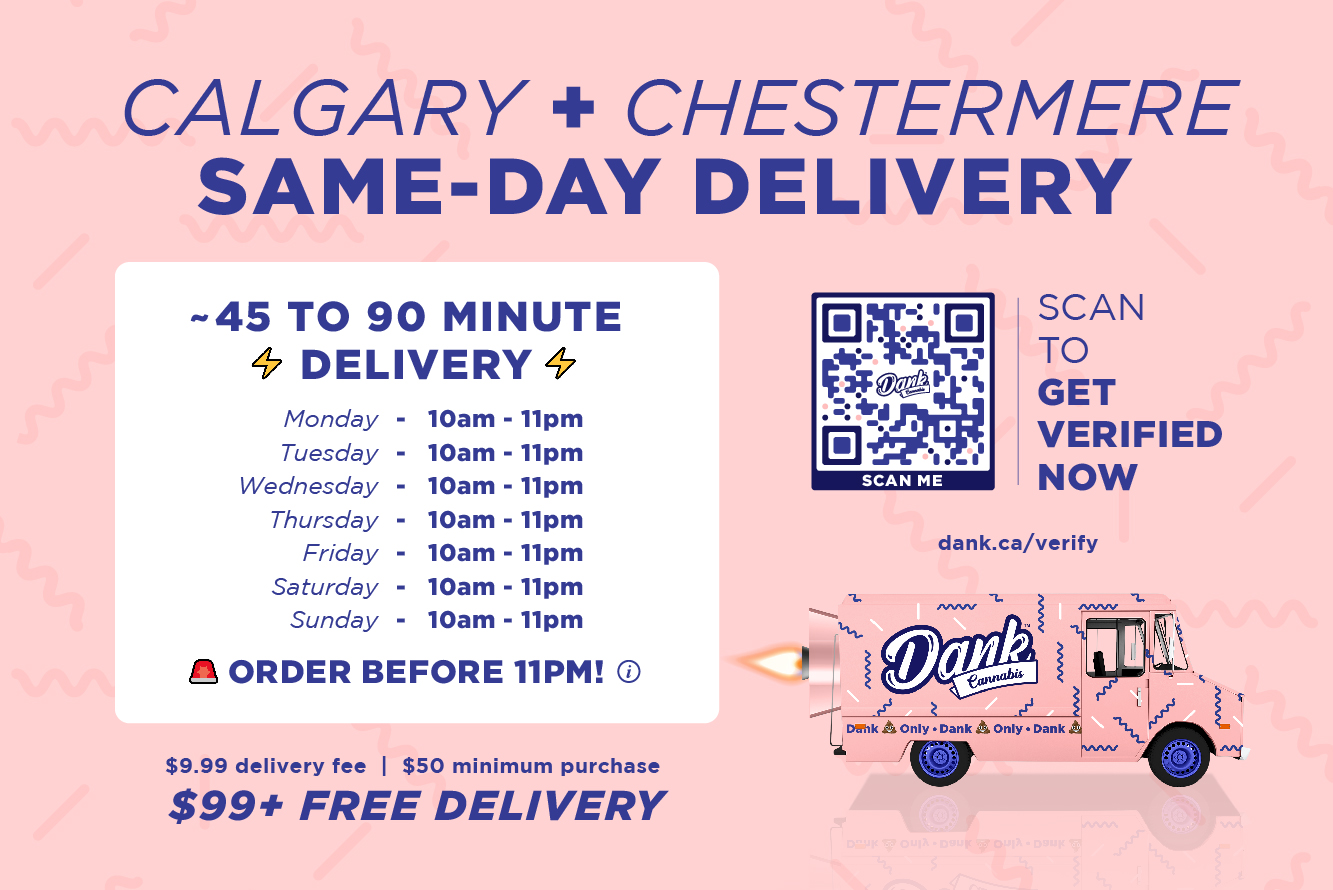 Canadians and visitors can choose to pre-order their products online for a fast pick-up, visit any of the convenient storefronts for a personalized, in-person experience or, lastly, get their order delivered to their door.
For online pre-ordering, the process is simple. Residents of Eastfield, Canada simply load their online carts with choices from Dank's handpicked collection of flowers, concentrates, vapes, edibles, drinks, accessories, and more. Then, they can check out online, wait for Dank's text, and head to the storefront for a quick pick-up.
If you prefer to make your purchases in-store, people in the area can visit Dank's convenient and expanding locations to discuss their options with a "Danktender." The trained in-store team at Dank has helpful guidance for new and experienced cannabis users alike. Customers walk away informed and excited about their new products.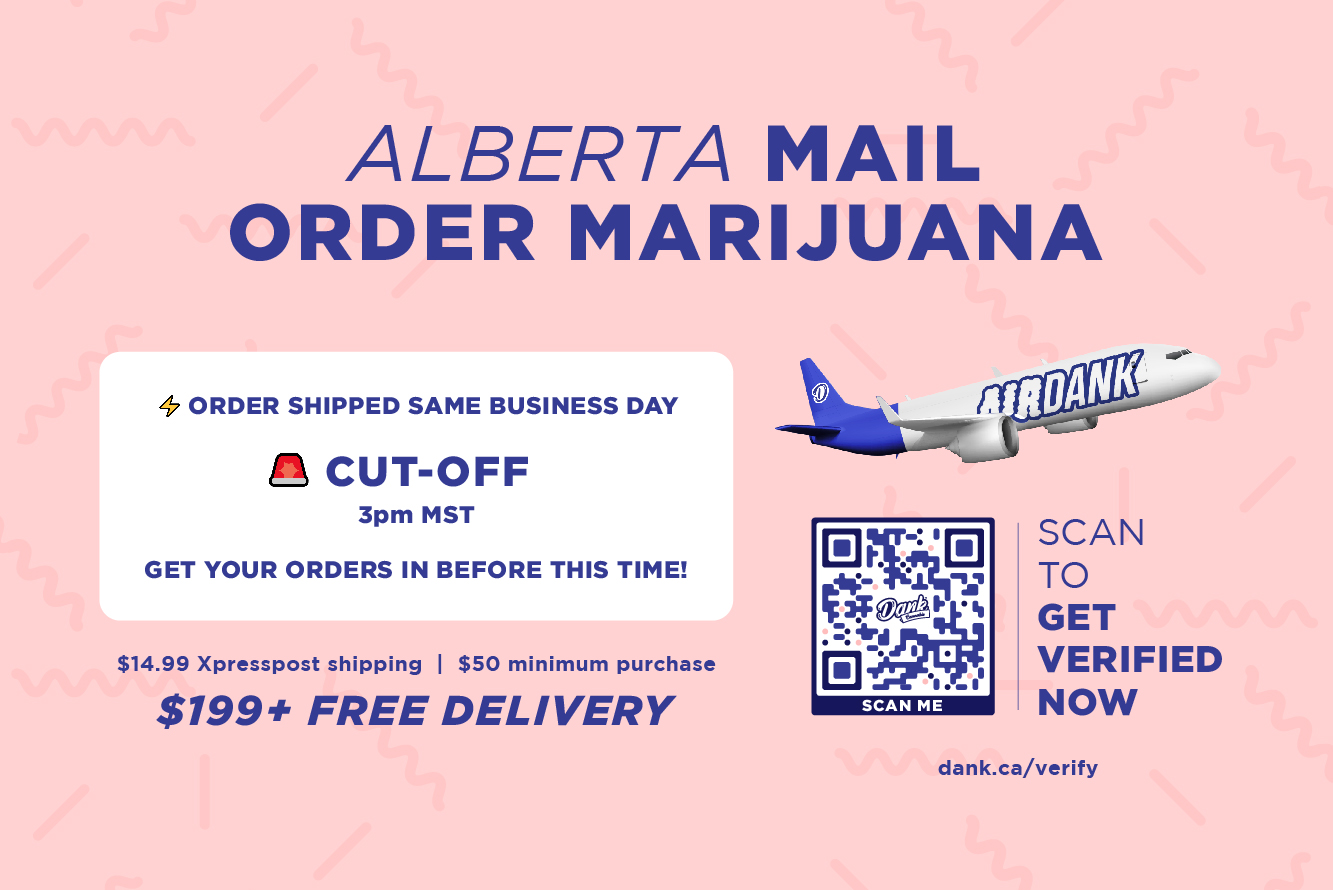 Finally, and most conveniently of all, Dank Cannabis delivers! Dank Cannabis offers legal same-day Calgary and Chestermere weed delivery and mail order marijuana delivery to all of Alberta.
AGLC requires an ID check before we can deliver to you. We've made this process as simple as possible for our highly valued customers. You can now complete your ID check with our proprietary system instantly online from the comfort of your home. This means you are only minutes away from gaining access to the largest, best selection of cannabis products and brands available in Eastfield, Canada.
Not only does Dank have a superior purchasing process, but the inventory is unmatched
Dank offers a variety of cannabis products, each made with the tastiest, most effective ingredients.
Flower and Pre-rolls: The premium selection of top-tier flower at Dank is offered at incredibly reasonable prices. Clients can sort by potency, size, strain, and brand to find their new favorite flower.
Concentrates and Vaporizers: Deliciously potent wax, shatter, live resin, rosin, and oil can all be found at Dank online and in-store. Dab lovers and vapers alike will love the selection.
Edibles and Drinks: For refreshing drinks and tasty snacks, Dank's inventory of edibles and THC- and CBD-infused drinks is a clear choice.
CBD Products: For those that prefer their cannabis in CBD-isolate, broad-spectrum, or full-spectrum, Dank has the options. From edibles to topicals, and more, Dank's CBD selection is complete.
Seeds: Collectors can find the highest-quality seeds in Dank's online and in-store inventory.
Accessories: Weed lovers can find unique pieces and practical accessories in Dank's selection. New and experienced smokers will get every product they need like grinders, papers, pipes, torches, and more.
For travelers and residents of Eastfield looking for cannabis, Dank's Calgary weed store is the best choice.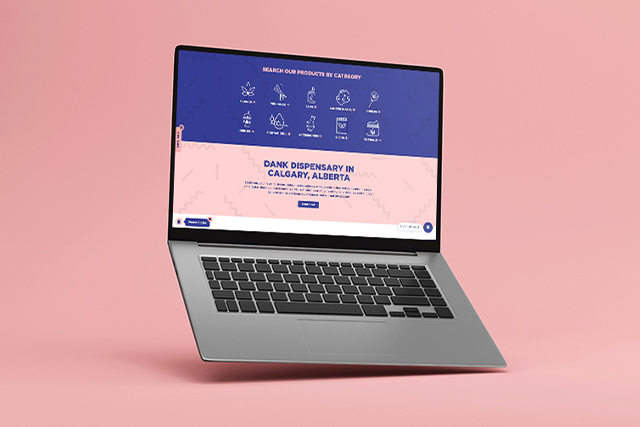 Visitors can find the highest quality products at the most reasonable prices at Dank. The Calgary dispensary is the superior place for convenience, with in-store and online pre-ordering as well as Dank delivery.
To learn more about cannabis in Calgary, Alberta, head to Dank's online store menu. Simply follow the one-time AGLC ID verification process to be able to view the full Dank menu and start shopping!