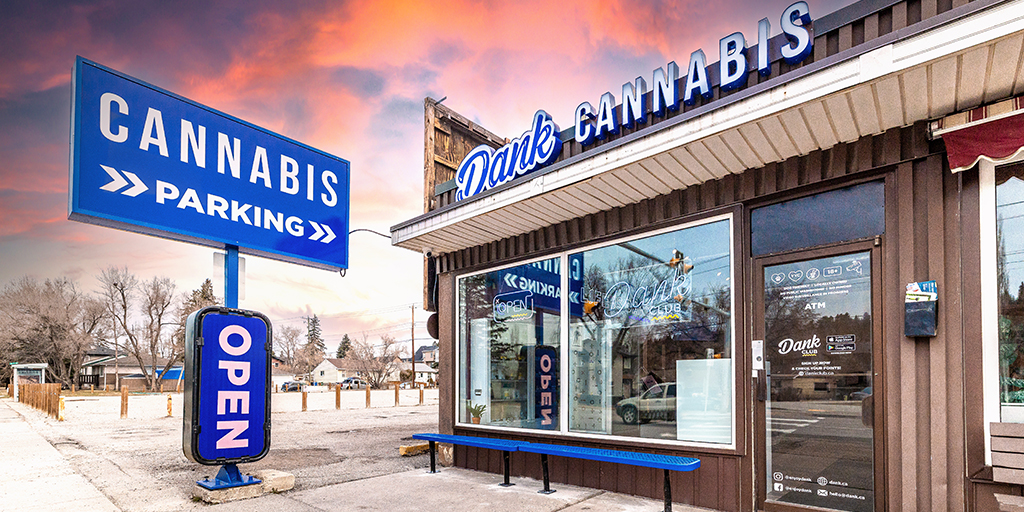 One of the best things about legalized cannabis is the ability to grow your own dank weed at home. Although some provinces don't allow you to grow cannabis at home, in most of the provinces and territories, you can!
Now, how do you buy cannabis seeds from Canada? Do you buy them at a dispensary? Can you order marijuana seeds online? What are the best cannabis seed banks in Canada? What's the minimum age? Can I go to any cannabis store in Canada? Which cannabis dispensaries in Canada are quality?
We answer all your burning questions and more about buying Canada cannabis seeds.
CANNABIS HOME CULTIVATION LAWS
On June 19, 2018, Canada made history by becoming the second country in the world to legalize cannabis.
Under the Cannabis Act, Canadians over the age of 18 are legally allowed to use cannabis for recreational or medicinal purposes.
Adults can grow up to 4 cannabis plants per household for personal use. However, some provinces have passed unique laws and regulations that vary from the national limit.
Let's break down each region's cannabis grow limits and minimum legal age limit to consume and grow cannabis.
Alberta: 4 plant grow limit, legal age of 18
British Columbia: 4 plant grow limit, legal age of 19
Manitoba: No home cultivation, legal age of 19
New Brunswick: 4 plant grow limit, legal age of 19
Newfoundland and Labrador: 4 plant grow limit, legal age of 19
Northwest Territories: 4 plant grow limit, legal age of 19
Nova Scotia: 4 plant grow limit, legal age of 19
Nunavut: 4 plant grow limit, legal age of 19
Ontario: 4 plant grow limit, legal age of 19
Prince Edward Island: 4 plant grow limit, legal age of 19
Quebec: No home cultivation*, legal age of 21
Saskatchewan: 4 plant grow limit, legal age of 19
Yukon: 4 plant grow limit, legal age of 19
*A Quebec Superior Court Justice struck down the home cultivation prohibition. However, the decision is being appealed by the government.
HOW TO BUY CANNABIS SEEDS IN CANADA
If you live in a province that doesn't allow for cannabis home cultivation, you're restricted to buying cannabis products from local licensed retailers. If you live in a jurisdiction that allows for cannabis home cultivation, you can buy cannabis seeds from the following sources.
RETAILER
If you prefer the one-on-one personalized service of a retailer, you can buy cannabis seeds from nearby brick-and-mortar or online dispensaries, if they sell them.
Many dispensaries are severely lacking in cannabis seed supply. For instance, at the time of this writing, Alberta's online dispensary only had 3 seed varieties available for purchase. Some dispensaries may have none available.
SEED BANK
A limited seed selection has turned many users toward online cannabis seed banks. Online seed banks provide a considerably greater selection of strains.
Many cannabis seed banks in the U.S., Europe, and other places around the world offer worldwide shipping. However, you can go local and buy cannabis seeds from a Canadian seed bank.
When choosing between cannabis seed banks, go with suppliers that have years or even decades of experience. An older seed bank will usually have a higher selection of products, more payment options, and exceptional customer service.
Tip: Order more cannabis seeds than you need. Plan on some of them (at least 25%) to not reach harvest.
FRIEND
If you're lucky enough to know a friend who grows their own cannabis, they may be legally allowed to transfer or gift cannabis plants or seeds to you if they don't receive any payment, at least where home cultivation is legal.
In fact, many online communities such as the "r/nugswap" subreddit connect thousands of cannabis users who want to trade or even give away cannabis clones, seeds, and dank flower buds.
CANNABIS SEED TYPES
If you're ready to buy marijuana seeds, consider your garden space and strain preferences before choosing a seed to buy. Also, consider if you're growing medical cannabis or cannabis for recreational use.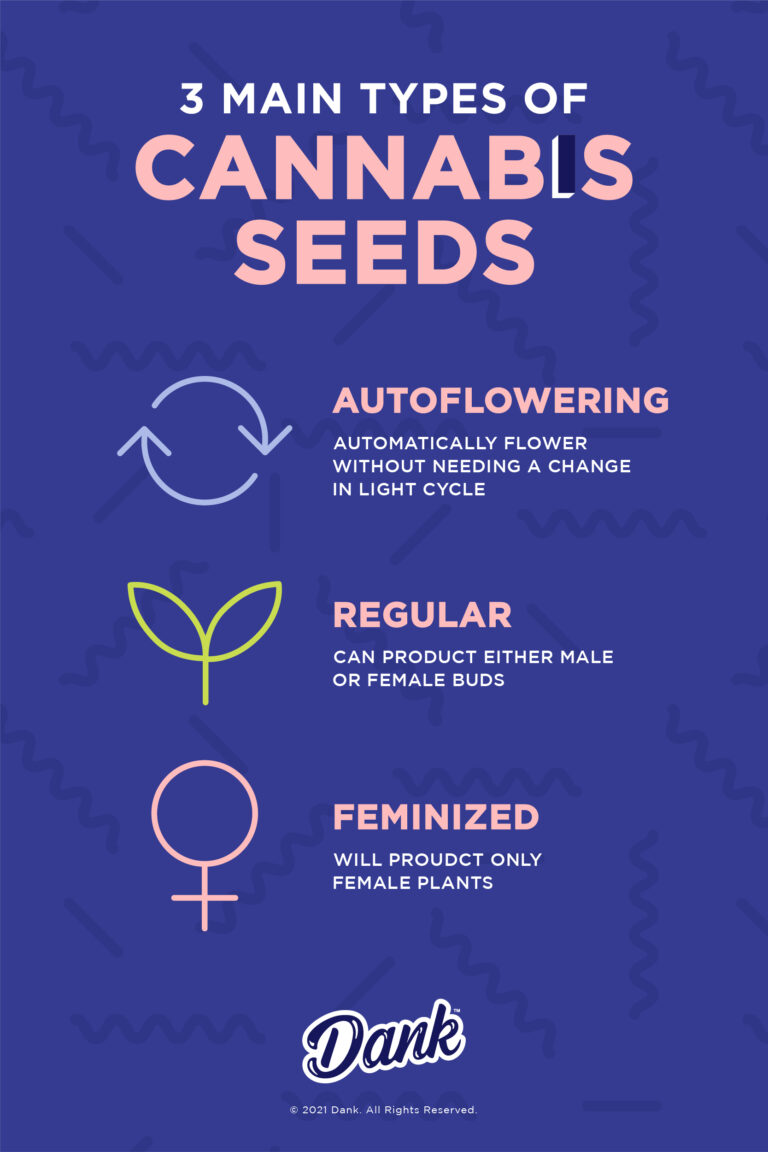 Do you want an indica, sativa or hybrid? Do you want a specific cannabis strain? Are you growing your plants inside or outside? Do you want a high THC or high CBD variety?
Consider these factors before buying any cannabis seed packs. Oftentimes, online seed banks will categorize their selection by variety or growing environment to make finding your ideal seed easy.
Now, let's discuss the three main types of cannabis seeds available:
Autoflowering: Autoflowering plants automatically flower without needing a change in light cycle. They are perfect for growers who want to cultivate more fast-growing plants throughout the year.
Regular: These seeds can produce either male or female plants. Males can grow to pollinate your bud-forming female plants. You'll need to monitor the plant closely to remove the male plant as soon as possible from your garden.
Feminized: Feminized seeds have been bred to produce only female plants. While rare, feminized seeds can also produce males.
DR. SEEDS
Based in Toronto, Canada, Dr. Seeds carries nearly 50 different varieties including nearly 30 photoperiod feminized, 15 auto flowering feminized, and 4 CBD feminized seeds. Classic cannabis options include Gorilla Glue #4, Granddaddy Purple, and Do-Si-Dos.
This supplier offers book discounts if you buy 3 or more seed packs. You can earn up to 25% off if you buy 6 or more packs. Don't forget to check for even more discounts on their website by using special discount codes.
If you want to give your plants the best nutrients in fertilizer possible, you can shop Dr.Seeds' fertilizer and nutrient solutions. Shop the bloom boost, vegetative hydroponic fertilizer, amino acid plant stimulant, Yucca wetting agent, or more. This online supplier provides everything you need to get your garden started.
Keep in mind, they don't offer refunds and all sales are final. They also don't guarantee germination, although their seeds have an 80% chance of germinating. They do, however, guarantee delivery of all shipments to Canada or the U.S.
CROP KING SEEDS
Founded in 2005, Vancouver-based Crop King Seeds is a favorite among growers around the world. Crop King Seeds offers 40 different varieties of classic strains or new hybrids. Every seed has an 80% germination rate.
Choose between CBD, autoflowering, regular, and feminized cannabis strains. You can also choose Mix and Match packs of 10 or 25 feminized or auto flowering cultivars.
Crop King Seeds offers discreet delivery and stealth shipping. If you spend more than $200, delivery is free. If you order over $420, you also get 10 free cannabis seeds. They also provide 24/7 chat support to answer any questions about their products.
Crop King Seeds accepts U.S. and Canadian dollars, Visa and Mastercard, Bitcoin, and Interac e-transfers for Canadians only.
VANCOUVER SEED BANK
Since 2006, Vancouver Seed Bank has been shipping seeds to growers from their headquarters in downtown Vancouver. While not the biggest selection, they have 10 different feminized cannabis seeds, including some CBD and autoflowering seeds.
Strain options include Auto Northern Lights, Bubba Kush feminized, or CBD Tiger 40:1. If you don't see the strain you want on their website, you can email them to special order it for you.
Vancouver Seed Bank offers a 100% satisfaction guarantee. If you don't like what you ordered, get a full refund or exchange the product. But, you probably won't need to do that with their 80% guaranteed germination rate.
They accept payment by mail transfer, money order, or Bitcoin.
Also, if you want to dabble in growing mushrooms, they sell an all-in-one grow kit for psilocybin.
MONTREAL CANNABIS SEEDS
Montreal Cannabis Seeds are shipped right out their headquarters in Quebec, Montreal. MCS boasts hundreds of auto, regular, feminized, CBD, outdoors, and fast version varieties.
Popular varieties include Fruity Pebble OG, Grapefruit Kush, Auto Lemon Kush, Chemdawg, and more. Each has an 80% germination rate. MCS offers wholesale prices for bulk orders.
Each order comes with a $10 flat rate for stealth shipping. As a Canadian shopper, you'll receive your seeds in its original packaging. Worldwide orders receive the hidden product within a "gift." They offer replacement seeds if you don't get your order.
They accept cash, check direct deposit, money transfer, and Bitcoin.
TRUE NORTH SEED BANK
With over 1,700 strains available from nearly 50 different cannabis seed banks, True North Seed Bank is truly one of Canada's best. Shop by seed bank, sex, flowering type, variety, yield, and many more unique categories.
Whether you need a specific strain for your anxiety, want a particular berry flavor, or need a list of short-growing cultivars, True North Bank makes it easy to choose between different seed categories. They even allow you to choose Cup winners. They offer seed packs in 1, 3, 4, 5, 6, 7 options.
Some of its best-selling strains include Afghan Hash, Canuk Cookies, THC Bomb, tons of Gelato hybrids, and many many more. Shop bulk for steep savings. Every order gets free seeds. You can pay extra for guaranteed delivery or extra safe stealth shipping.
They accept credit cards, cash, check, international money orders, bank transfers, and many cryptocurrencies including Bitcoin.
Make sure to explore their accessories section where you can find tons of apparel, storage, humidity packs, and smoking accessories.
DR. GREENTHUMB SEEDS
Dr. Greenthumb Seeds has over 25 years of experience breeding in Eastern Canada. Choose from over 40 strains including Chemdawg G-13, The White, Trainwreck, Girl Scout Cookies, Panama Red, OG Kush, and many more classic and new cultivars.
Each seed pack is certified disease-free from viral, bacterial, and fungal infections. Seed packs ship within 24 hours.
While Dr. Greenthumb may not have the sleekest website, it has plenty of high-quality strains. They accept bank drafts, certified checks, and money orders. All provincial taxes are included in the price. They offer worldwide shipping by standard letter mail and tracked express shipping in Canada only.
QUEBEC CANNABIS SEEDS
Quebec Cannabis Seeds has over 15 years of experience selling high-quality seed packs. Choose from nearly 120 different seed varieties from Bomb Seeds, Quebec Cannabis Seeds, and Next Generation Seed. Popular seed options include Auto Bruce Banner, AK-47, QC Black Gold, Gorilla Glue, and many more.
Make sure to try the mixed seed packs to get a variety of strains to experiment with. They're good for new growers or advanced ones who want to cultivate multiple strains. For instance, choose between the auto or the feminized mixed seed pack for your next crop.
They offer stealth shipping at a flat $10 rate. They accept Visa and MasterCard.
BC BUD DEPOT SEED BANK
BC Bud Depot Seed Bank has a great selection of about 60 high-quality strains from DNA Genetics, Limited Edition, Scorpion Crew, and their own genetics. Choose from plenty of high-CBD and feminized seeds. Popular options include BC God Bud, BC Pinewarp, Bubba God, and God's Gift.
They guarantee the receipt of your order or they'll resend it. Enjoy worldwide delivery at reasonable prices. They accept credit cards, cash, and money orders.
GROWER'S CHOICE SEEDS
While Grower's Choice Seeds is a Spanish-based supplier, they have branches in the U.S. and Canada. Shop over 65 different varieties full of high-CBD, autoflowering, and feminized cannabis seeds.
All seeds are lab-tested to ensure you're getting authentic genetics. All seeds have a 90% germination rate. If it doesn't germinate, they'll send you replacements.
Popular cannabis varieties include Gorilla Glue Auto, Tangerine Dream, White Widow, Northern Lights Auto, OG Kush, and many more.
They accept cashiers or certified check or money orders by mail. They also accept multiple cryptocurrencies. No cash or personal checks are accepted. They offer worldwide discreet shipping at a flat rate.
Don't forget to sign up for their newsletter to receive free seeds.
CANADIAN SEED BANK
Canadian Seed Bank has over 20 years of experience supplying quality cannabis strains from British Columbia, Canada. Shop the latest indica, sativa, indoor, outdoor, and many other varieties.
Popular strain options include Afghan Skunk, BC Skunk, Big Bud, Durban Poison, G-13, Master Kush, and many more.
Canadian Seed Bank's packs are sold in units of 10, 20, 30, or 50 seeds per package. They also offer bulk orders up to 1,000 seeds. All orders must pay a flat $15 shipping rate. Free shipping is available on orders over $200.
They accept Interac eTransfers, Bitcoin, bank transfers, and cash or money orders.
FINAL WORD ON BUYING CANNABIS SEEDS IN CANADA
Buying cannabis seeds in Canada has never been easier. However, your best bet is to order them from a local online seed bank. There are plenty of Canadian cannabis seed suppliers. Ordering from a supplier headquartered near you can ensure speedy shipping. One of the best and most trusted cannabis dispensaries in Canada is Dank.ca. Dank.ca lets you order online and pick up in store. 
Keep in mind, most cannabis seed banks list their price in USD not Canadian dollars.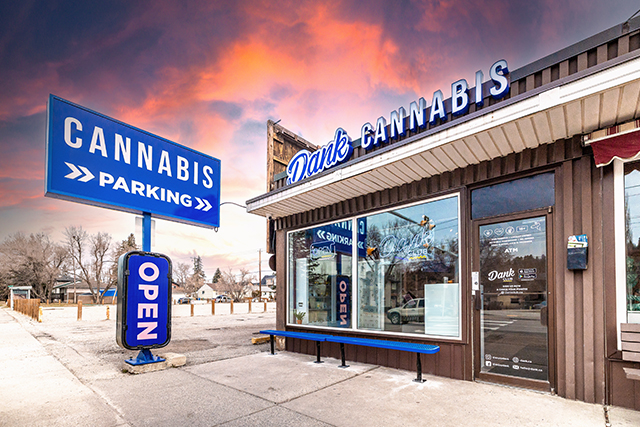 If you need some cannabis flower, extracts, edibles, or topicals to hold you over before harvest season, trust Dank Cannabis' premium selection of whole-flower marijuana strains and THC infused products. Ordering has never been easier with Dank.ca. Either get your order delivered straight to your door or order from their menu online and pick-up at one of their cannabis shops in Canada.